I Love A Clean San Diego and other local partners are at it again, hoping to make this summer the cleanest on record at some of our most popular beach destinations. As hundreds of thousands of people look to descend on local beaches this summer, Clean Beach Coalition member organizations I Love A Clean San Diego and FreePB.org are working hard to make sure the beaches don't bear the brunt of what thousands of people leave behind…trash!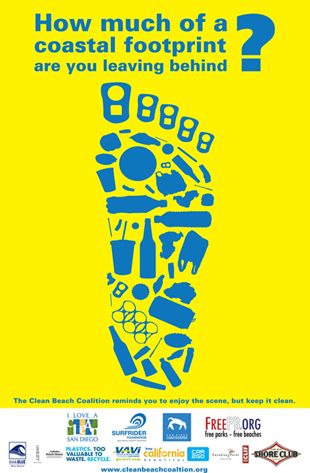 This year, with major support from Pacific Beach Shore Club and Think Blue – City of San Diego's Storm Water & Transportation Department, the Clean Beach Coalition is going to keep San Diego's beaches clean. In addition to the traditional Fourth of July and Labor Day holiday weekends, the CBC will also include this year's Memorial Day weekend into the program. The CBC will work with City of San Diego's Parks & Recreation Department to place hundreds of temporary trash and recycle receptacles on beaches of Ocean Beach, Mission Beach, Mission Bay and Pacific Beach. These bins make it easy for people to "enjoy their bash, while canning their trash", and ensure that there is plenty of space for everyone's waste. The campaign's educational message with pollution prevention artwork will make its way to the doors and windows of some of your favorite beach stores.
We also have a few new sponsors that are helping pay for the cost of these bins, including Typhoon Saloon, SeaWorld San Diego, Northrup Grumman, and Rubio's. They are joining the ranks of returning sponsors Lahaina's, Vavi, Bar West, and car2go to keep our beaches FREE FROM TRASH this summer.
Stay tuned for tips on how to keep your beach party green, as well as more information about when and where you can find these temporary bins. And if you're sick of your favorite beach getting trashed, come do something about it by volunteering at the Morning After Mess, scheduled for Friday July 5th at a few different beach sites up and down the coast.