The San Diego Clean Beach Coalition, a partnership between I Love A Clean San Diego, FreePB.org, and the City of San Diego's Park and Recreation Department, is gearing up for the busiest beach weekend of the year! The Coalition's goal is to keep our most popular beaches litter-free by placing temporary trash and recycling bins on the sand during the busy summer holiday weekends. These bins prevent litter and overflowing trash cans that often result from the influx of visitors, and they provide a much needed recycling option at local beaches.
The program kicked off the 2015 summer season over the Memorial Day holiday weekend. Trash and recycling bins placed at Ocean Beach, Mission Beach, Mission Bay and Pacific Beach captured thousands of pounds of debris that could have ended up as litter on our beaches and in our oceans. Thanks to our generous sponsors for your support!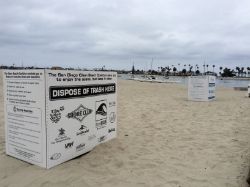 Keep an eye out for our bins over the 4th of July weekend–there will be 75 bins placed at our busiest beaches. The trash and recycling bins will be back in action one final time over Labor Day Weekend. Remember, the Clean Beach Coalition reminds you to enjoy the scene, but keep it clean!
Leave a Comment